Have you met people who attended trainings and then didn't apply what they learned? Perhaps it has happened to you? We did some fact-finding and it turns out there are 3 main reasons why that occurs:
People don't internalise the skills,

They don't have good practice partners

Or, they don't know how to create opportunities for practice.
As a training provider, it's easy for us to simply deliver the head knowledge.
But we certainly don't stop there. If you've been in our classes, you know that we spend 50% of classroom time on practical exercises, to transition from knowledge to applicable skills. And we've gone further: we've developed bonus sessions in our training which allows people to enhance their practice. This segment gives our students extra practice, personalised coaching and in-depth feedback.
We're excited to present to you: The NLP Skill Enhancement Training (SET).
The SETs are three to four-hour extra training sessions conducted alongside our main NLP training. At least two competent NLP Coaches facilitate these sessions, where students get to fine-tune their core NLP skills and practice solving more real-life problems. This enables them to adapt their skills and increase their range in their neuro-pathways.

We firmly believe that competence and confidence come with deep practice. If people are given a way, an environment and guidance to practice, they cannot not become competent and confident in their skills. Just like learning to ride a bicycle, you don't get it the first time. You go through trials and errors, falls and struggles before you can ride comfortably. For NLP, you can go through all that in a safe and well-supported training environment.
Here's what to expect at the SET sessions:
You'll get a walkthrough of the NUTS & BOLTS that make the NLP processes work.  And then you learn to apply these processes to REAL LIFE SCENARIOS, including in the virtual settings.
You'll build your FLEXIBILITY to work with a wider range of people – through cross-pollination learning and repeated practice with different partners in class.

You'll receive instant FEEDBACK and COACHING by our NLP Coaches. You can immediately apply this feedback into your next practice and see the difference it makes for you. Participants are given the Competency Building Framework and 'neuro-actionables' to translate their learning and practice into progressive behavioural results and milestones.
The SET gets our students in the spirit and habit of practising.
They learn how to create practice opportunities for themselves, get comfortable with making mistakes and self-correct. We've seen great results based on the testimonials given by our students—how they apply NLP in performance appraisals, job interviews, how they're able to manage their state during important presentations, or coach people for improved focus and productivity. We have a very good proof of the effectiveness of the SET when we see how our students demonstrate the NLP skills during the NLP Evaluation, on the last day of the training.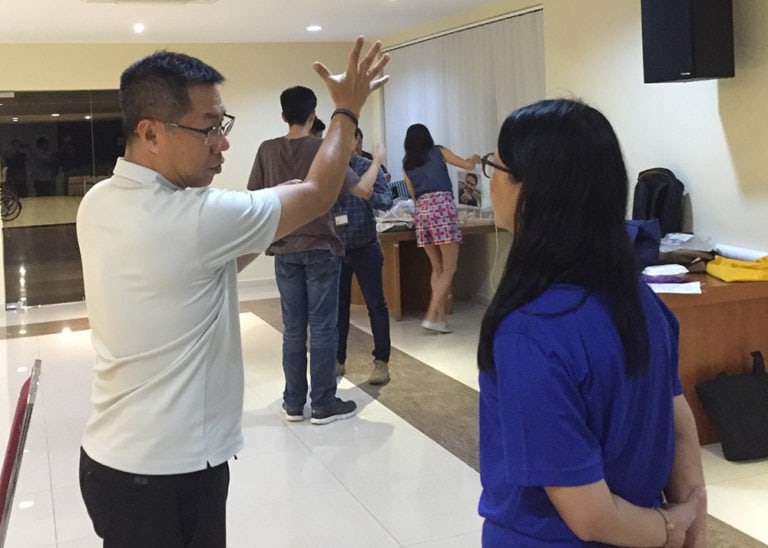 We are big fans of "the learning is in the doing"…not the talking.
Just because someone delivers an impressive speech about something does not mean that they have the skills mastery to execute what they say. Mastery is about getting our skills and knowledge into our muscle memory, continuously honing our practice until we reach the level of unconscious competence.
Are you looking to improve your Communication, Self-Mastery, or want to become a Professional Coach?
Our NLP Practitioner training is NOT a training where you walk away feeling like you know a lot but then…you're not able to apply much. 50% of the course is hands-on, and through the complementary SET sessions, you can drill your skills for more depth and finesse. This is what makes the difference when it comes to building your confidence and competence in applying what you learned in a training.
I encourage you to sign up for a complimentary NLP Starter Session.
We'll get in touch with you to confirm your time slot, and we look forward to having a more in-depth and meaningful conversation on how you can maximise your NLP training with us. Book your seat here: http://bit.ly/nlpstarter
[inf_infusionsoft_inline optin_id="optin_2″]