NLP Practitioner Certification Training in Bangkok, Thailand
12 days of self-discovery, immersion and experiential learning
leading to an internationally recognized Certification
Are you getting through to the people you most need to, especially those who have an influence on your career, business and overall happiness?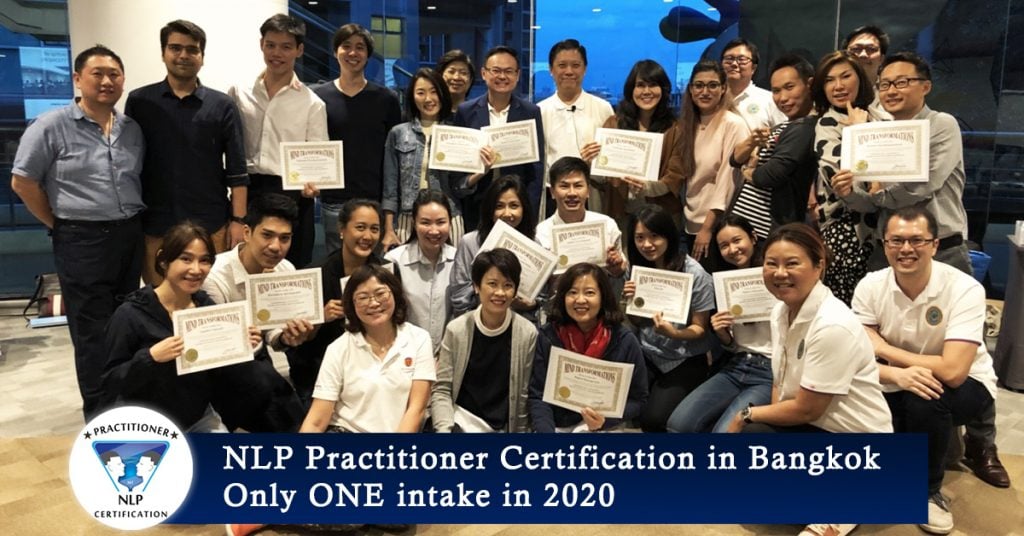 Do you find that you have limited influence in creating the success you want in your career or business because you are lacking the communication skills or the self-mastery to get through to the people whom you most need to reach out to?
If the answer is yes, please read the following introduction to NLP slowly. You will begin to understand why you are not enjoying the success you are supposed to, and how you can reprogramme yourself to achieve that success with more ease and less effort.
Let's take the example of communication to explain NLP. Communication is essentially an exchange of messages.
And a message is a make up of our thoughts—which are a combination of our intentions, our beliefs, our perception of what's possible and the way we look at ourselves. These are all translated into our words and behaviours, and this entire translation process is called our neuro-linguistics.
For everything we do, for every choice we make, we are using our neuro-linguistics. As a matter of fact, the success of our communication, of our work, relationships and of all the things we care about, is attributed to the way we are operating our neuro-linguistics.
This is the object of study of Neuro-Linguistic Programming; through understanding the way we think and how this is connected to our behaviour, we can sequence, strategise and reprogramme ourselves to focus on what matters most, to act on the difference that makes the difference.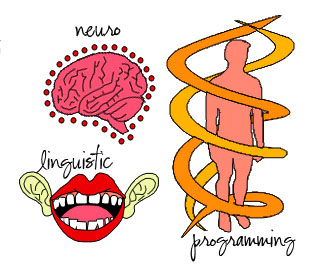 We need people to hear us out. To notice our talents, the problems we can help solve, the authenticity of our intentions.
But in a noisy, fast-paced and demanding world not many of us stand a chance of being heard. That is, unless we are flexible and vigilant enough.
And this is where NLP comes in – it gives you an unfair advantage to attain this chance:
First, you will begin to have more awareness about your strengths and your blind spots.
You develop a sharper sensory acuity and you learn how to observe and break successes down into replicable steps that you can then programme yourself or others to execute consistently.

You will also develop a strong, resilient mindset that makes you confident and comfortable with who you are and the stage of life you are in at the moment.

All in all, you will start to see that through managing yourself, your mind and your emotional state, you can produce a profound impact on the things you want to accomplish and on the people around you.
In short, you see your influence increasing and you are able to get the success you want with little effort and repeatedly.
Here's how you get started.

Mind Transformations'
Certified NLP Practitioner Programme
We teach NLP with 3 connecting concepts: "Brain Friendly", "Hands-On" and "How to do it", so that you can turn the cutting-edge NLP knowledge and tools into something you can confidently apply in your life.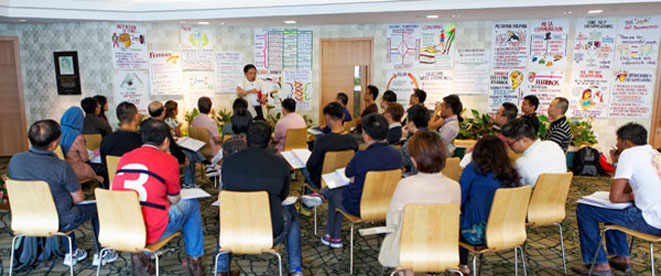 Here's a glimpse of what you will take away from this programme:

How to communicate with influence without being needy or manipulative.

Why some people don't "click" well with you, and how to increase your rapport with them by focusing on a few subtle points in a conversation.

The structure of persuasion—a 4-step formula for giving suggestions that people want to follow.


Sensory acuity drill that will make you sharper and help you identify the critical points in any success strategy. This is the one skill that will make you a faster learner and a successful modeler.


How to manage the expectations of multiple parties without sacrificing your own needs.


Coaching diagnostic framework that leaders, coaches, trainers and consultants can use to bring out the best in people and organisations.

Psychology of self-management: how to defocus negative mental associations, unproductive habits, and install positive resourceful ones.


How to break strategies down to teachable chunks that can help you and other people replicate success consistently.

5 steps to a powerful mental rehearsal that prepare you ahead for a presentation, a confrontation or an important area of performance.

You will be trained by Barney Wee himself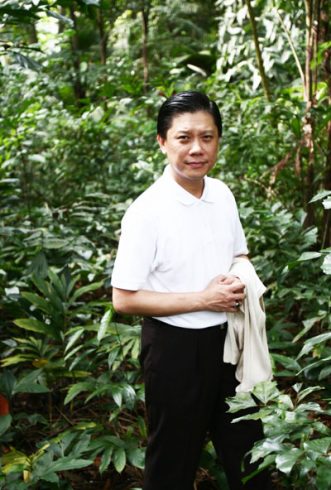 Barney is one of Asia's earliest and most advanced NLP Trainers, trained by the original developers of NLP, namely Dr. Tad James and Robert Dilts.
Having dedicated 20 years of his life exclusively to the refinement and evolution of NLP, Barney is always fine-tuning the course syllabus to bring in the latest developments in the field, as well as his multi-disciplinary experience from sales, coaching, energy psychology, personality profiling, nutrition and many more.
What our graduates are saying
"…I applied the (NLP) techniques, in particular the SCORE Model & NLP Presuppositions when dealing with my clients… the results were amazing."
– Poranan Prasitwisat Montgomery (Pam)
Customer Service Consultant, Thailand
Feedback from our Thai Participants (in Thai)
World Class Training & Certification
COMPREHENSIVE CONTENT GEARED TOWARD MASTERY

130+

training & coaching hours

70%

hands on practice time

300+

pages of course materials

INDUSTRY LEADING TRAINER & SUPPORT

22

years of training experience

>2K

NLP Practitioners trained worldwide

26

NLP Trainers were our graduates

WORLDWIDE RECOGNITION
Our training is recognised by the developers & luminaries of NLP. Mind Transformations' certification is accepted by the American Board of NLP, NLP University & others to enable you to move to the next level of your NLP Certification.
The most demanding NLP programme in Asia
The course is 12 days long.

There are assignments you have to do.

There are class exercises that will require you to stretch out of your comfort zone.

And there's an evaluation you have to pass at the end of the course.
Because we believe that lasting results take time, commitment and practice to happen.
This has been the way our courses are run; when people walk out of our programme, the way they look at themselves, the way they communicate and the way people respond to them is changed forever. This is what has built the reputation of Mind Transformations.
This course is not about us.
It is about you.
If you share the same belief with us,
if you value comprehensiveness, mastery and confidence in your knowledge and abilities,
if you are willing to give your full commitment, block out time, and do things that are outside your comfort zone because you really want a lasting, definitive change in your life,
…then you are ready to experience the commitment of Mind Transformations.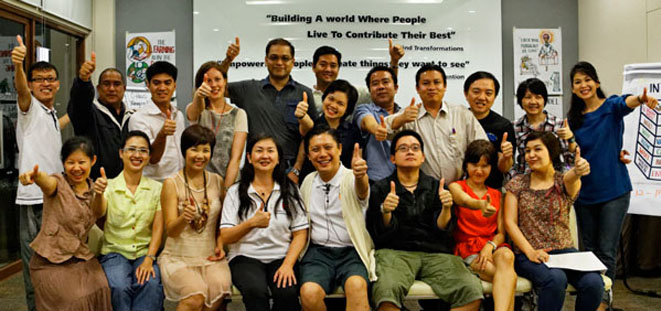 Contact us for enrolment today!
NLP Practitioner Certification Course (Bangkok)

Days & Dates

Module 1: 22 – 25 Feb 2020
Module 2: 26 – 29 Mar 2020
Module 3: 08 – 11 May 2020

12 days

9am – 630pm

Location

VIC3 Hotel Bangkok

89 Soi Phahonyothin 3

Samsen Nai, Phaya Thai

Bangkok 10400, Thailand

Fees

74,000 Baht

*Early Bird Offer before 20 Dec 2019. Call us to enquire!

**Course Fees are not inclusive of flight tickets & hotel accommodation.

To Enrol, Contact

Kanokwan (Nok): kanokwan [a] 37degreesc.com

+6689 8940222

LINE ID: noky001
Upcoming Training
Dates
Module 1: 22 - 25 Feb 2020
Module 2: 26 - 29 Mar 2020
Module 3: 08 - 11 May 2020
(12 days, 9am - 630pm)


Location
VIC3 Hotel Bangkok
89 Soi Phahonyothin 3
Samsen Nai, Phaya Thai
Bangkok 10400, Thailand

Fees
74,000 Baht
*Early Bird Offer before 20 Dec 2019. Call us to enquire

**Course Fees are not inclusive of flight tickets & hotel accommodation.
To Enroll, Contact:
Kanokwan (Nok): kanokwan [a] 37degreesc.com /
+6689 8940222 /
LINE ID: noky001
Real People, Real Results
"When I first signed up for the NLP course, I thought that it's a course that will just teach me how my brain functions and how it's gonna work. I didn't expect that it's more than just that, because knowing how the brain works but not knowing how to apply it in our lives makes a huge difference there... I see NLP really as a way that we can use it in our own lives to help us in our interactions with people, as well as we can use it to help people around us."
- Cordelia Quah
Associate Director, Financial Services
Singapore
"...NLP is the most powerful transformation tool anyone can learn…
I would recommend everybody at some point in their lives, must be NLP trained."
- Sanjay Tejwani
Business Unit Director, Global Forwarding
India
"To be an effective communicator and to get your message across, ask questions and let the person realize it for themselves... what I learn from this class is that there is no failure, only feedback. "
- Angela Ho
IT Professional
Singapore
You may also be interested in
Need an answer real quick?