The Millionaire Story:
From Rags to Riches
Mind Transformations is delighted to announce that our Founder and Principal Trainer, Mr Barney Wee, has been featured in an upcoming book, "The Millionaire Story: From Rags to Riches", written by Justin Chua and Solomon Tye.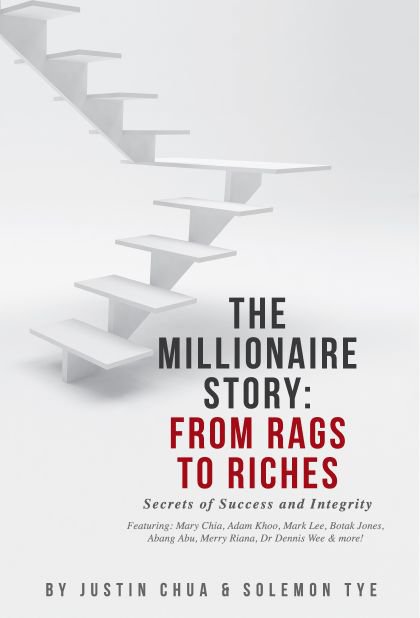 This book captures the life stories of 12 successful entrepreneurs in Singapore, who have raised themselves from humble beginnings to become industry icons today.
Besides Barney, other entrepreneurs include Adam Khoo, Mary Chia, Bernie Utchenik (Botak Jones), Dr Dennis Wee, Merry Riana, Addy Lee (celebrity hairstylist), Abang Abu, Dr T. Chandroo, Dr. Michael Leong (Founder of ShareInvestor), as well as CEOs of Public Listed Companies in Singapore.
When we look at successful people, we are often in awe of where they are now. But what we often don't see are the suffering and hard work they shouldered on their journeys to where they are today.
In this book, Barney will take you to the early days of his life, of how his parents brought him up as a kid, how he transited from the hotel industry to the financial industry and finally to becoming a well-known NLP Trainer in the region.
Each turning point brought difficulties that challenged him mentally and emotionally. He will tell you how grateful he is for these experiences, for they have given him the self-knowledge, confidence and competence in achieving high level results in complex situations.
By learning from the trials and tribulations of Barney and the other successful entrepreneurs, this book is intended to help you shorten your path towards success – a path where self-redefinition is inevitable.
Interview with Justin Chua, Co-Author of the Book
Chapters From Barney's Interview
A Sickly Childhood
Important Values from Parents
Education and his First Job
Army Days
Plunging into the Working World
Brotherhood
A Career Change
The Importance of Hard Work and Courage
Daring to Dream
Lessons from Entrepreneurship
Tough Times and Defining Moments
What the Future Holds
Death: An Alternate Angle
Barney Wee's Learning Lessons
The Millionaire Story: From Rags to Riches will be out in bookstores from June 2012 onwards.
To read a short excerpt from Barney's interview, click here.
To learn more about Barney's life's work in NLP, visit our NLP Practitioner course page click here.