Barney Wee, PhD
Strategic change. Personal congruence. Sustainable transformation.
Barney first walked on the NLP path in 1995.
That's when he became an NLP Practitioner, having learned from the original developers of the field – Richard Bandler, Robert Dilts and Tad James. Having experienced himself all the benefits of an NLP mindset and having been able to transform some of his personal limitations in a short period of time, Barney became an NLP trainer two years later.
With a Kaizen attitude and a relentless desire to advance his field, Barney is the pioneer of Multi-Intelligences NLP, which is an integration of NLP with the practical aspects of the Multiple Intelligences theory (formulated by Harvard Professor Howard Gardner).

For 22 years now, Barney has been certifying thousands of NLP Practitioners and training thousands of people in the practical applications of NLP, including Sales, Communication, Coaching, Interviewing Skills, and especially "Changing Personal Paradigms."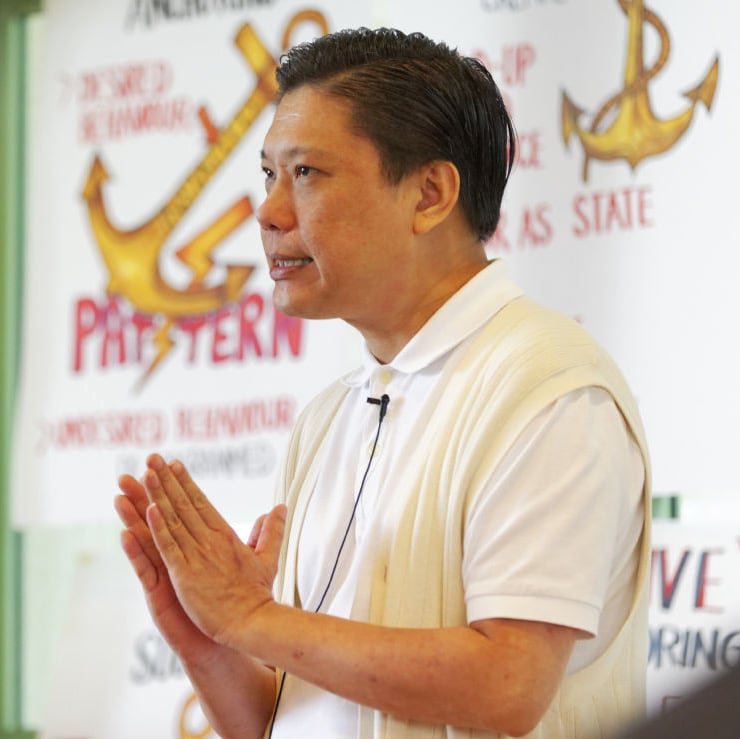 He has redesigned his training programmes around this innovative concept.
And he is now helping his students make use of not just their IQ – which only allows them to solve their problems logically, but also of their EQ, PQ (Physical Intelligence) and SQ (Spiritual Intelligence). The result? More robust, sustainable and holistic personal transformation stories in his classes.

What to expect when taking up his training, consulting, or coaching?
Expect a unique approach that integrates the latest findings in science and spirituality. Expect to receive practical applications of these that are transformational, yet easy to use. Expect someone with a sharp mind, someone who asks the right questions at the right time, who is wise, compassionate (and passionate) and truly caring.
Mind Transformations has become the leading provider of NLP solutions in Singapore, with the largest pool of Certified NLP Practitioners and Master Practitioners.
In 2015, his NLP Programs was accredited by the International Association of Coaching Institutes (ICI), which enables him to lead his graduates to become professionally certified life and executive coaches.
Some of the foreigners who have attended Barney's classes have made it their mission to bring his training back to their respective countries; and this is how Mind Transformations has expanded to Indonesia, Malaysia, Thailand, Vietnam and Mauritius (Africa).
"In the power to change oneself is the same power to change the world."
This quote by Anwar Sadat, which is one of Barney's favourites, sums up why he does what he does: helping people change for the better and become their best selves – individually – so that we can gradually create a better world – collectively.
Barney's qualifications and knowledge:
PhD Professional Coaching & Human Development – IUPS (2020)

M.A. Human Development & Professional Coaching – IUPS (2014)
NLP Trainer – ABNLP and I.N. (Int'l Association of NLP Institutes)

Enneagram Personality Trainer – Registered with Int'l Enneagram Association

Isvor-Dilts Leadership Management Consultant – Isvor-Dilts, USA

Human Resource Management Consultant – ASME Singapore

EFT Trainer – Association of Meridian & Energy Tapping

Spiritual Intelligence (SQ) trained by Danah Zohar & Cindy Wigglesworth

Leadership Maturity Coach – Vertical Development Academy
Some of Barney's more recent professional milestones:
2008/2010 – Recognised for his entrepreneurial spirit; he was nominated for the 2008 Spirit of Enterprise Award and was a recipient of the 2010 Successful Entrepreneur in the Platinum Category.
2009 – Singapore Women's Everest Team – Barney has coached one of the women in the all-Singaporean-women team to successfully summit Mt. Everest.
2010 – International Authority in NLP. Barney was invited to speak at the "NLP Now Telesummit", alongside the world's most experienced NLP Trainers. He was also on the panel of the Happiness at Work Webinar, together with the world's leading researchers, trainers, and coaches.
2012 – Book feature. Barney's journey from rags to riches was featured in the book The Millionaire Story, together with many famous people on the Singaporean business scene.
2014 – Book publication. Barney co-wrote the book Choices of Now with Agnes Lau. Backed by over 4.5 years of intensive research, the book integrates the best in science and spirituality to give the world the coherent message that in the midst of environmental, social, and economical chaos, we, as individuals, are ultimately the solution in our world.
2015 – Barney has been vetted by The International Association of NLP Institutes (based in Germany) for his 20 years of continual practice of NLP in the public and corporate sectors, and he was awarded the title of NLP Master Trainer. In the same year, he was invited and accepted into the exclusive NLP Leadership Summit, considered to be a NLP Elders Group (consisting of Robert Dilts, Joseph O'Connor, Shelle R. Charvet & many more), which requires a minimum of 15 years of active NLP practice and good public reputation.
2017 – "Global Training & Development Leadership Award" – from the World HRD Congress in Mumbai. This gave Mind Transformations' longstanding quality work a clear recognition by the World HRD Congress (Mumbai) – "Global Training & Development Leadership Award." Barney is recognized as a leader in training & development in the field of NLP and has positively impacted the business & government sectors; this is evidenced by the continual innovation of his training programmes and the excellent feedback given by clients consistently over time.
2020 – Appointed by the Singapore University of Social Sciences to be the Chairman of the Programme Advisory Committee for Graduate Diploma in Professional Life-Coaching Programme. The committee provides the university with an independent, objective and informed perspectives on the following areas: a) Course Structure, content and learning outcomes, b) Programme development and review, c) Current trends in the field of Social Work, d) Professional engagement and career opportunities for graduates of the programmes.
2021 – Appointed as the President of the International Association of Coaching Institutes (ICI) in Singapore. Mind Transformations continues to supervise and strengthen our coach training program in Singapore, backed by stringent coaching regulations and guidelines, so that we can raise the competencies of professional coaches who continually improve their craft on empowering others.
Some of Barney's Corporate & Institutional Clients: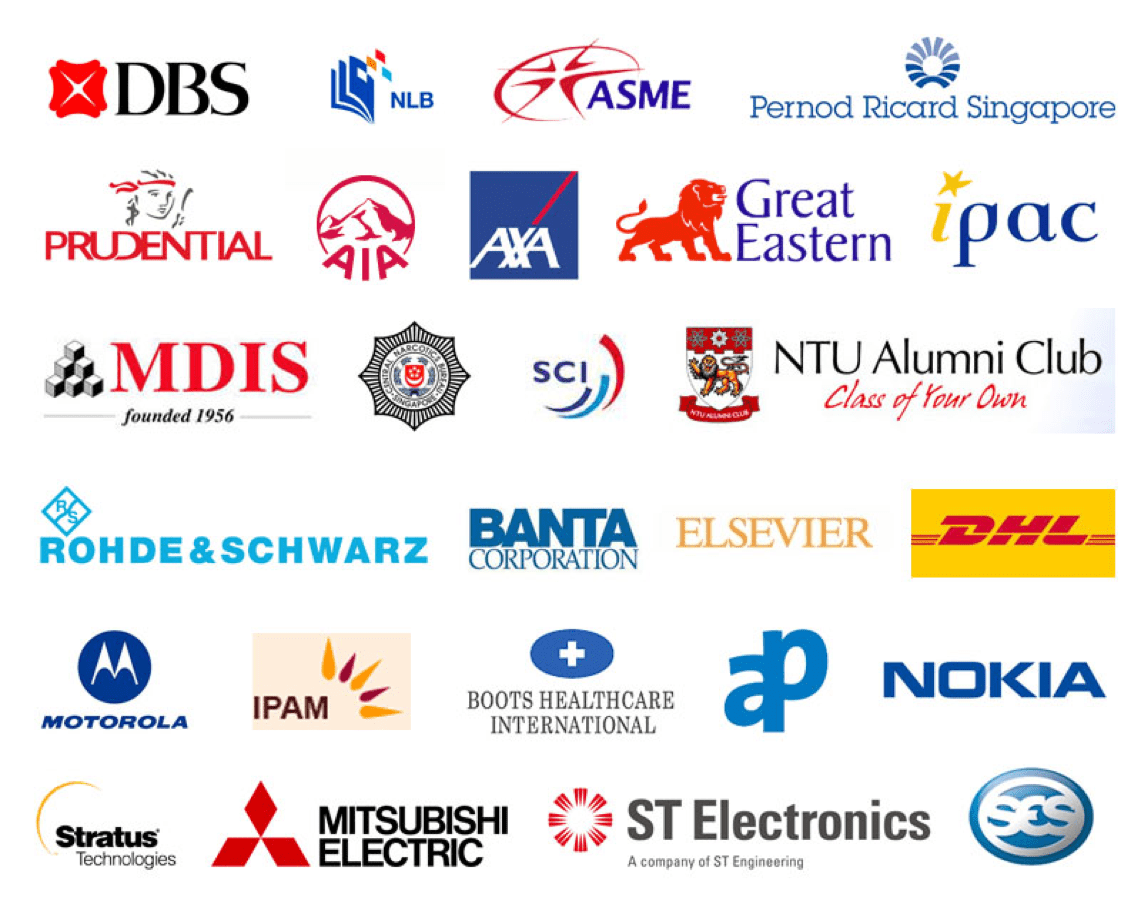 Graduate Acknowledgements