Neuro-Linguistic Programming (NLP) has been in Singapore since the 1980s. Known only to a selective group of personal development enthusiasts in Singapore back in the 80s, with a foreign NLP Trainer Gary Yardley coming to Singapore from "Down Under." NLP then, was very much taught the classical way; focused on therapy settings and learning cognitive and behavioural techniques to effect change.
In the 90s, Neuro-Linguistic Programming began to get attention in Singapore with the emphasis on applications in the education setting.
Enrichment programs led by "accelerated learning" specialist Dr Ernest Wong, a Malaysian – who up till today continues to provide effective learning strategies for teenagers. He incorporated memory dynamics, mind mapping techniques and the goal achievement tools of NLP.
In the early 90s, Dr Sid Jacobson from the U.S. conducted numerous in-house Neuro-Linguistic Programming training programs for Singapore's educational, government and statutory institutions. He also conducted some public seminars. He operates out of New Orleans, U.S.A., and is one of the pioneers of NLP, specialising in education, training and writing. He wrote several books on the subjects of learning, psychotherapy and problem-solving in business.
In the mid 90s, Singapore gained further exposure to Neuro-Linguistic Programming in the areas of communication and interpersonal influence.
Coined by Dr Mel Gill as the technology of "Charisma" with special emphasis on "NLP Rapport." An inspirational speaker, he brought across the message of the importance of body language and using humour and metaphors to boost self-confidence and motivation. He is currently the host of the local celebrated radio programme "Uncommon Sense."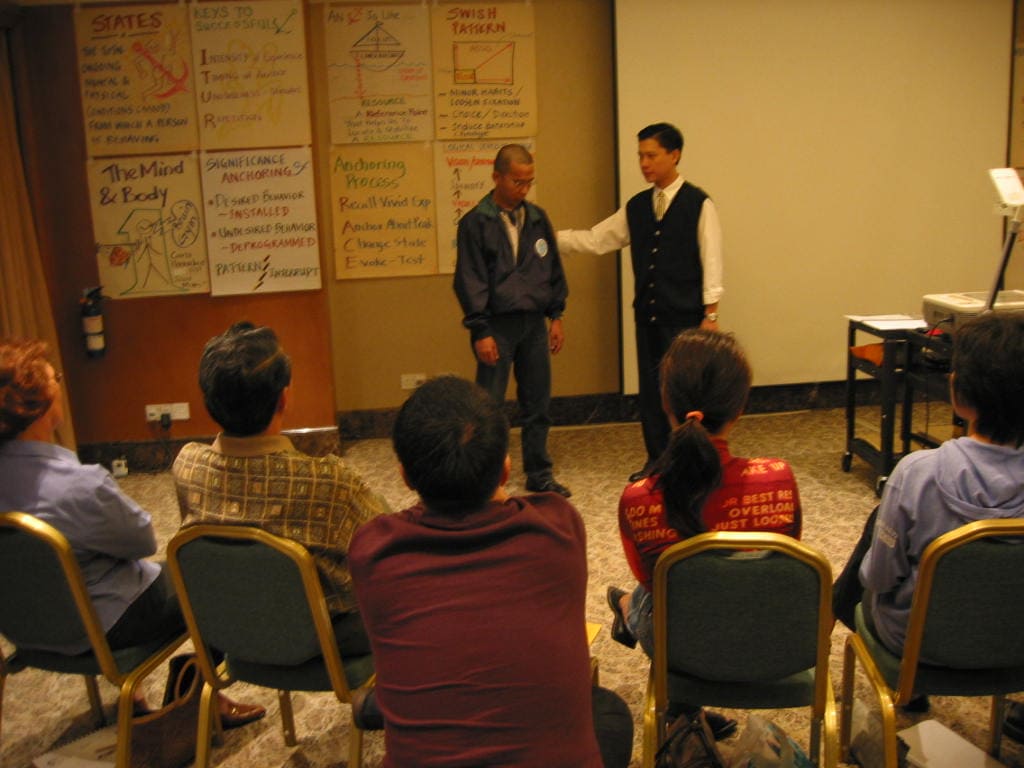 Around the same time, Success Shop came into the local scene to provide a wide range of personal development tools and accessories. Amongst the many useful products they provide to the public, they have a wide range of NLP books, audios and videos. The many Neuro-Linguistic Programming luminaries featured in their shop include Robert Dilts, Tad James, Connirae Andreas, Joseph O'Connor etc.
In 1997, a locally-setup NLP-based company, Mind Transformations, founded by Barney Wee, came into the NLP scene.
Dedicated to the application of NLP in business and life coaching, Mind Transformations focuses on the "heart" and "spirit" of Neuro-Linguistic Programming in its certification training & corporate workshops. Its emphasis is on the practical 'nuts and bolts' of NLP in Selling, Communication, Coaching and transforming one's mindset for higher achievement. Known for their dedication to "due process," "competence" and "quality feedback," they are sought after by many professionals in their late 30s to their 40s.
The early 2000s brought forward the movement of Neuro-Linguistic Programming in the area of personal success strategies. Led by Adam Khoo, a self-made millionaire and Stuart Tan, this strategic partnership brings forth the learning of Neuro-Linguistic Programming experientially. Incorporating accelerated learning and high motivational approaches, this energetic duo provides short intensive programs on self-mastery and scoring "A's" in School.
Year 2002 was a landmark year in the evolution of NLP in Singapore.
Robert Dilts, a world-renowned NLP innovator, was brought into Singapore's corporate scene through Mind Transformations' consulting work. Robert was training top executives on using his world-class leadership system. A prolific writer and researcher (author of 29 books), his contributions have shaped what is learnt in NLP today. His innovative concepts redefine, unify and continually push the boundaries of NLP influence.
A year before, Barney Wee was the only Singaporean invited and certified to use Robert's leadership model, based on Robert's 20 years of work modelling powerful leaders in the successful US and European companies.
In 2004, Singapore was introduced to a unique branch of Neuro-Linguistic Programming known as Neuro-Semantics, led by Andrew Bryant. An off-shoot of Neuro-Linguistic Programming, Neuro-Semantics emerged in 1997, started by Michael Hall and Bobby Bodenhamer. Andrew Bryant—a Neuro-Semantics Trainer based in Australia, introduced his programs on self-leadership.
The intention of this article is to provide you with a broad landscape of the development of Neuro-Linguistic Programming in Singapore.
It is not a complete account of all the local Neuro-Linguistic Programming activities. Each NLP Trainer has his/her own unique emphasis and contribution to the growth of Neuro-Linguistic Programming in Singapore. Collectively, they have added richness and extensiveness to this field and will continue to do so in the years to come.
[inf_infusionsoft_inline optin_id="optin_2″]