Have you ever attended a training, were really excited and motivated immediately after it was over and told all your friends and family: "This is the first day of my new life. Starting today, you're looking at a new Me"? Then days, weeks went by and your old habits kicked in, the busy-ness of life took over and you realised you'd forgotten most of what you'd learnt. You can probably relate; we sure can.
With time and observation, we've come to know that delivering an excellent training is fairly easy when you do it over and over again; however, helping participants really keep the learning alive and sustaining it long after the training is over – that's the real challenge; and that's also what brings us the most satisfaction when we see it happening for our graduates time and time again.
So how do we help our students keep the learning alive long after the training is over?
First, it's about how the training is designed and delivered. Probably 60% of the NLP knowledge is the same for each NLP school, and what really gives people the competence and confidence in their skills is how they learn in class.
Our training methodology is called Brain Compatible Teaching. It focuses on how to build NLP in your muscle memory. We design special exercises that get you to experience each NLP tool; we simulate real-life challenges and outcomes while you're in class. So even before you finish the course, you're already working on your change. 60% of our NLP course is hands-on, so be prepared to do and learn.
This second part is what we call the Post Course Action Plan (PCAP).
On the last day of each class, each participant buddies up with a classmate to create an action plan that they will execute within 30 days. While they work on this plan, our NLP Coaches help them tighten the scope, so that it is something sufficiently challenging, yet very worthwhile doing. The most important part is, while they set this outcome, they already see how they can apply the NLP skills and tools to achieve it.
Fast forward to a month later, our trainer, Barney Wee, e-meets the class on a live webinar. Every participant reports on their progress on a scale of 1-10, where they are at in terms of their outcome. The average scale for outcome completion that we normally get is 7/10.
Modelling excellence and success with NLP tools and multi-intelligences coaching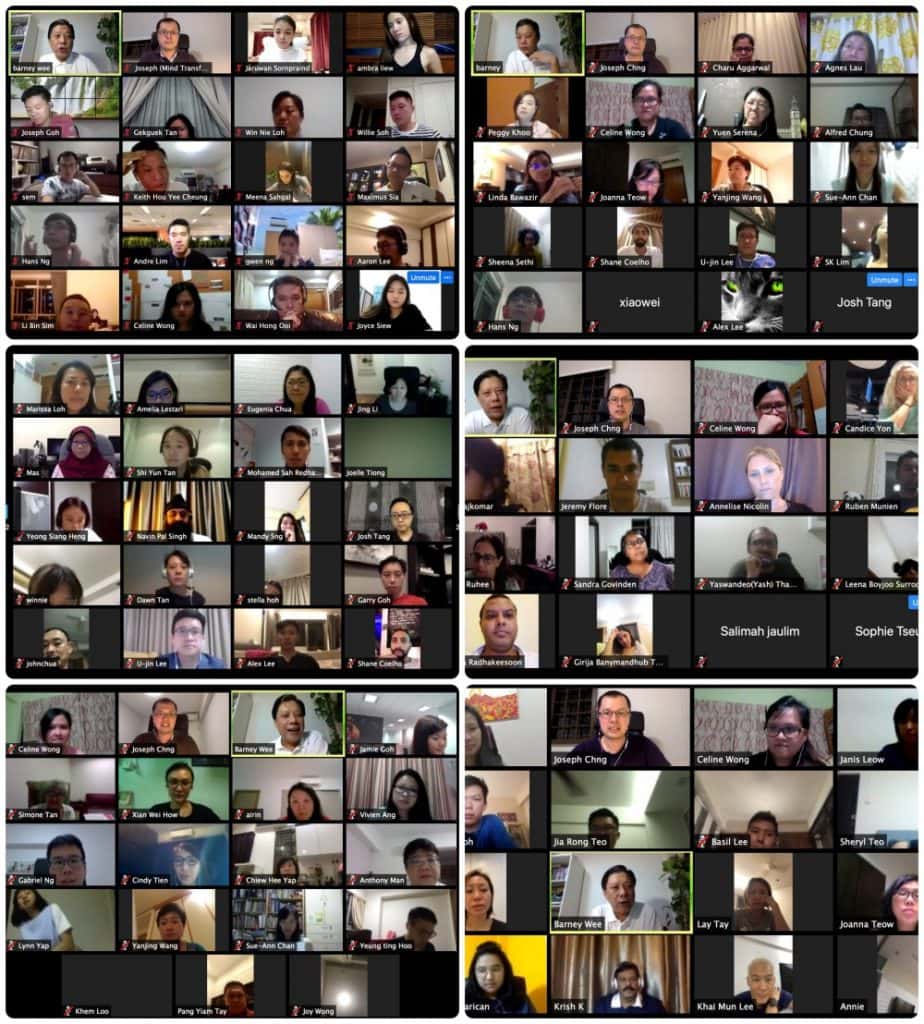 Barney basically chooses one or two people in the webinar who've had success with their outcomes and makes them subject of his modelling. By demonstrating multi-intelligences NLP coaching tools, he draws out the strategies, mindset, thought process, any internal realignment that this person went through—to achieve his/her outcome. This is where we get to see how Barney asks very good questions that draw out key points of success, how he formulates his questions and brings about clarity for the person to repeat his/her success.
Modelling is a very useful skill to pick up and use in our work and personal lives, because once we are able to see the mechanics that help people create successes, we'll be able to re-apply this skill to accelerate our learning or decipher the successes of other people. By the way, NLP modelling is a skill for which corporations pay Barney top dollars because using it brings them top dollars. And graduates get this superb opportunity to see how it's done for free, gaining valuable insights and sharpening their NLP skills.
Barney then performs NLP Modelling – LIVE and unrehearsed.
If you're not familiar with Zoom, it's an online communication platform on which all those tuning in get to see everyone else – live. This means that graduates also get to watch the body language and expressions of those whom Barney chooses to model. This is very useful, as in NLP we learn that 55% of communication is in one's body language, so graduates get to practice their observation skills as well.
We don't just promise you that you'll learn NLP, we commit 100% to helping you LIVE, PRACTICE, IMPLEMENT & REFINE it to enhance your professional outcomes and personal development! The thing we care about the most is you being able to sustain & capitalize on the hard work and time you've invested into improving yourself.
NLP is a wonderful knowledge—especially if you're able to APPLY it in your life.
Whether it is in improving communication, coaching for results or developing your self-mastery, NLP works on your change at the level of your inner programming. You'll be able to sustain your transformation without relying on affirmations or rah-rah motivation.
[inf_infusionsoft_inline optin_id="optin_2″]