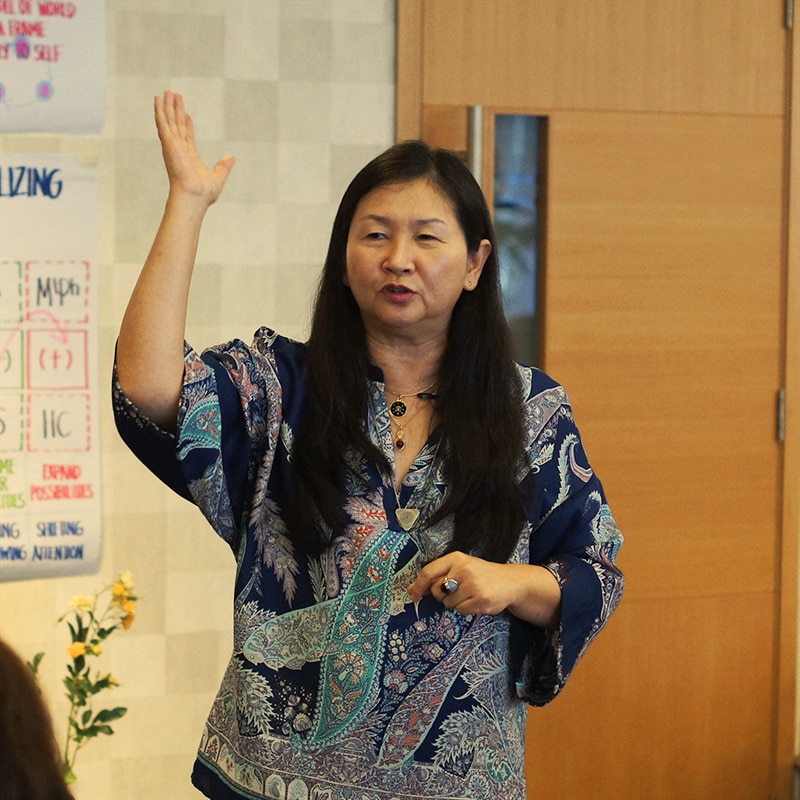 Agnes Lau
Company Director | Enneagram Trainer | Life Coach
A calming and caring influence on clients and staff at Mind Transformations, Agnes combines her practical experience in the corporate and civil service sectors with her passion and expertise in coaching, applied psychology, personality profiling and complementary health.
Since 2000, Agnes has been coaching and consulting using the Enneagram Personality Model. She is one of the most highly qualified Enneagram personality profiling trainers and consultants in Singapore:
She was personally trained by Russ Hudson and the late Don Riso of The Enneagram Institute, today's foremost developers of the Enneagram, and by Ginger Lapid-Bogda, Ph.D., former President of the International Enneagram Association, in the United States. She was also certified by Lifeworx Associates and is licensed to use their Enneagram Technology™.
"My role is to help people awaken to their higher consciousness and connect with their multi-dimensional selves."
Pioneering Neuro-Linguistic Enneagram
Her dedication and expertise in this area of human psychology provides a whole new dimension into NLP training with Mind Transformations. Mind Transformations is the first NLP training company in Singapore to combine these two disciplines in its courses, together with quantum psychology.
Agnes' consulting, coaching and training sessions are characterized by her holistic point of view, empathy, refined ability to listen and ask critical questions to help clients move out of their stuck states.
Before becoming a trainer and consultant, Agnes enjoyed a career in research. Armed with a Statistics and Computer Science B. Sc. (Hons) degree from University College London, U.K., and an M.B.A. from Monash University, Australia. She has held the posts of assistant director, research manager and statistician; conducting government surveys and studies, stockbroking, real estate, and market research.
"In Mind Transformations, I help develop and support the growth of a regional NLP community where one has the skills to communicate effectively, the tools to meet challenges in life and to achieve more fulfilled and aligned lives, and build a more understanding, tolerant, caring and supportive global community."
Certifications & Licensing
– Enneagram Personality Trainer (International Enneagram Association)
– Enneagram™ Technology Licensee (Lifeworx Associates, USA)
– Certified NLP Master Practitioner
– Hypnotherapy Practitioner
– Time Line Therapy™ Practitioner-
– Isvor-Dilts Leadership Management Consultant (USA)
– Impact Teaching (Dr. Richard Allen, Impact Learning Inc., USA)
Training & Media Engagements
Institute of Public Administration & Management | Management Development Institute of Singapore | The Asia Pacific Management Centre | The Singapore Confederation of Industries | The National Library Board | AC Consortium Pte Ltd | ActMedia Singapore Pte Ltd | Armstrong Industrial Corporation Ltd | Atos Origin (Singapore) Pte Ltd | L-3 Communications Singapore Pte Ltd | Petrol Chemical Corporation of Singapore | Red Box Events Pte Ltd (for SDU) | Rio Tinto Minerals | Rohde & Schwarz Systems & Communications Asia Pte Ltd | Singapore Prison Service | SAF Shooting Contigent | Standard Chartered Bank | Rhode & Schwarz Support Centre Asia | Holistic & Natural Health Festival 2001 | Singapore Prison Intelligence | Executive Secretaries Conference 2002 | Asia Business Forum | NTUC Income | TV12 "An Apple A Day" | Channel 5 | Channel NewsAsia "Health Naturally" | FM938