Advancing Professionally with Multi-Intelligences NLP & Coaching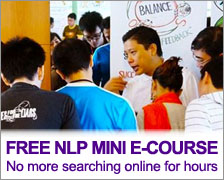 Many NLP providers in Singapore offer the basic level certification in NLP, but Mind Transformations is the only company that consistently conducts NLP Master Practitioner's certification every year since 1998. This advanced level certification is necessary for most profession-focused NLP certifications (Life Coach, NLP Modeling, Consulting, Organizational Leadership etc). Up till 2011, Mind Transformations is the only NLP company in Singapore that has groomed 26 (& counting) Certified NLP Trainers. Mind Transformations' active database includes professionals such as Counsellors, Executive Coaches, Leadership Coaches, Life Coaches, Corporate Trainers, Educational Psychologists, Early Childhood Educators etc. If it is your dream to become an NLP Trainer, Business Consultant or Professional Coach, Mind Transformations will set a solid foundation for you.
Value to customers: You have certainty that Mind Transformations' coaching & NLP programmes in Singapore and Asia Pacific will lead you to higher NLP  & coaching professional developments, organizational applications and building a high performance career in the VUCA world.
"My own experience has been that NLP is the most powerful transformation tool anybody can learn."
– Sanjay Tejwani
Business Unit Director, Global Forwarding
(India)

– Arkadej Albert Udompanyavit
Professional Trainer
(Thailand)
"… the Senior Vice President commented, 'you trained with passion and warmth, you are a good trainer'. One of the regional staff (from Singapore) commented that of the few countries that she visited where similar training was conducted, the Malaysian office did it the best i.e. with professionalism, passion, well delivered and getting the messages across. … the Vice President of Legal & Compliance also complimented me, "well done, very well done!" And after that I received SMS and e-mail compliments for the well-delivered training. Wow! I can't believe I am seeing the result now. I remembered delivering it with confidence, high energy and passion. I had a breakthrough about "confidence." I am very happy that I was able to break that limiting belief."
– Grace Chan
MNC Learning & Development Manager
(Malaysia)
"My career track had shown that I doubled my income every 2 years, for the last 8 years. After learning NLP in 2004, for the first time, I have tripled my income within 2 years. It's a record for me and also a remarkable achievement!"
– Hingdranata Nikolay
HR & Training Manager
(Indonesia)