NLP in a Day
16 simple NLP applications for your everyday life
At Mind Transformations, one of the things that we enjoy most, is when our graduates tell us how they are experiencing new improvements in their lives through their applications of NLP.
In many cases, these applications were not taught by us, but discovered by our NLP Practitioners themselves through their understanding of the generic frameworks of NLP.
Through their sharing, we have inspired to compile their learning into a story, to share with you how you too, can enjoy practical and sustainable results with NLP.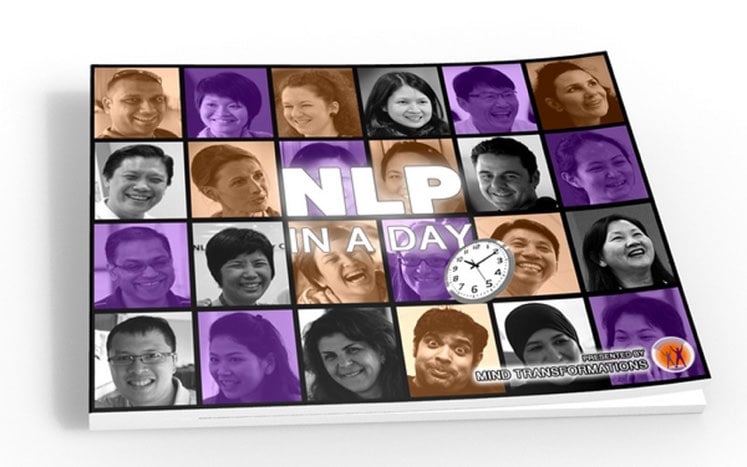 In this book, you will get tips on:
• How to prevent an "emotional hijack"?
• What does it mean by "behind every behavior there is a positive intention"?
• What kind of food to eat to maintain a sharp state of mind, especially after lunch.
• The mindset that has helped many people achieve their ideal body weight.
• How to stop judging and start building rapport.
And many more…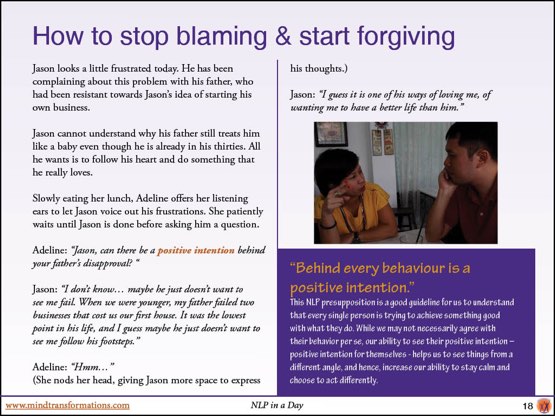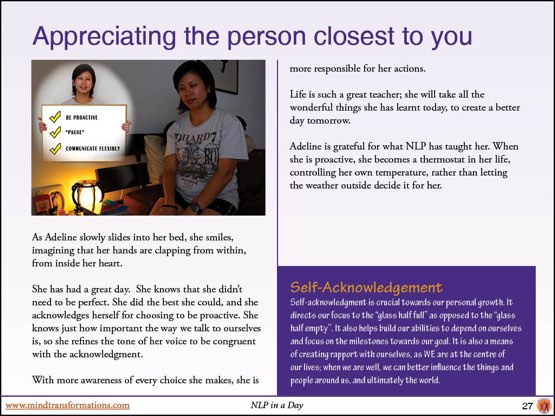 A simple yet great book to read. It shares with us some very very basic concepts in life which is simple to understand but not easy to implement in daily life. It really requires self-awareness, discipline and so on to embrace, learn and take action one step at a time. Thanks for writing this book 😀
– KL Cheah
NLP is a way of life.
If you're new to NLP, this will be a great book to begin your journey of discovery.
And if you are already familiar with NLP, these applications will add new ideas to your map of NLP.
This ebook is complimentary.
NLP in a Day
16+ micro applications of NLP
that our NLP Practitioners are using everyday
Get the book now + Subscribe to our Newsletter