Influence Without Authority
Scientifically-tested and proven people-strategies that get you more "Yes" and commitment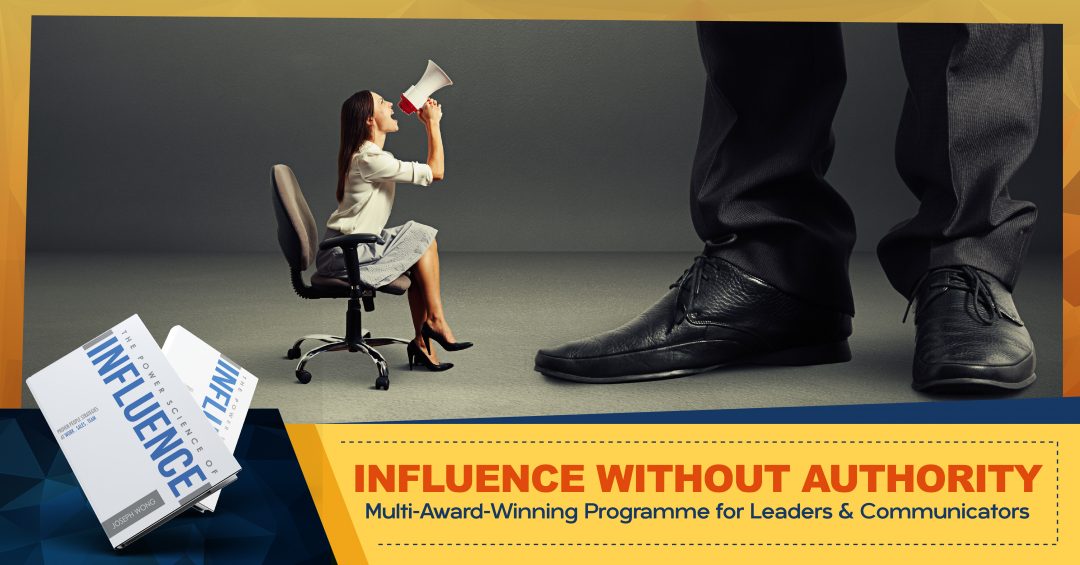 How do you get people to take action, especially when they don't report to you?
Do you find that you have a lot to offer and many good ideas to share, and yet you're bottlenecked at "no, thank you"? In our world today where so many things are screaming for attention, do you wish you could up your influence so that people would want to say more "Yes" to you?
Influence is the ability to move people.
You may have come across people who aren't loud, don't have big titles and yet they're able to get people to listen and take action. Now you may think that they're just born with the ability to influence, but there's really a science behind this. When you've learned how to apply this science, you'll find it effortless to move people from resistance to commitment.
Presenting: The Influence Without Authority Workshop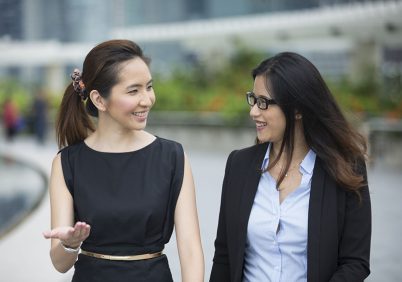 Many think that influence is about being convincing. They put a lot of effort into crafting and rehearsing their message, but real influence is not just in the script.
This 3-day workshop is about influencing across matrices and leading upward.
You'll be working on your ability to navigate complex work situations and complicated office politics. Good influencing skills come from knowing yourself, understanding people, adapting to them, and going with the grain of science – which are all meant to ensure that you become more confident in influencing different situations and people.
So roll up your sleeves and expect to work hard. We'll take you through an experiential three-part development.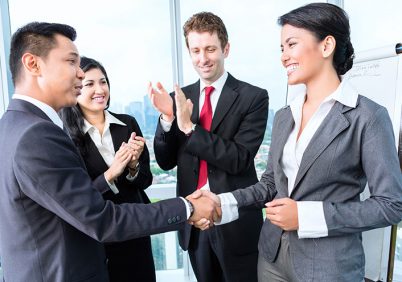 Part 1: The Power Science of Influence
The human brain is roughly 3% of our body weight, and yet it uses 20-25% of our daily energy supply. It's not surprising that people want to minimise the time and brain energy spent thinking about a decision. The power science of influence tells us to focus on simplification—so that people want to move forward with us.
While you can't prepare 100% for every pitch or interaction, you can rely on the science predicting human behaviour. You'll learn how to apply this science to narrow the gap of communication, and model this skill to various aspects of your work and life.
Here are the topics covered in Part 1:
The predictability of human behaviour: what psychologists and scientists have found out about people through more than 60 years of research
Why charisma is not long lasting (and how to improve your consistency in gaining trust from people)
Trigger Words that improve the precision of your influencing ability
The 6-universal laws of influence that you can apply in any communication setting
Redefining authority: identifying the missing equation to use authority positively
Part 2: Power Currencies That Elevate You Even When You Have No Authority
Imagine you are in a foreign country and you don't have the currency of that country; you'd not be able to buy food, would you? In a communication setting, influence is like applying useful currencies so that you get buy-in from people. When you are able to use the right currency, that currency is power.
The problem is that most people think good logical reasoning is the best-accepted currency. They try to persuade using logical facts. As a result, many good ideas end up on deaf ears, good employees don't get promoted, predicted risks are not acted upon, deals are not won.
In part two of this workshop, you will discover your own resources and skills upon which you can leverage to influence in different situations and you will be given scientific ways to improve this skill.
Here are the topics covered in Part 2:
Discovering "power currencies": your natural influencing abilities and the qualities you can develop for maximum leverage
How to increase your influence score by applying specific "power currencies"
How to decode the mind patterns and unconscious needs of your stakeholders right from your first meeting with them
Your Personal Value Profile: Discovering what holds you back from influencing effectively
How to tread the dynamics of office politics without being taken advantage of
How to identify and decode people's Decision-Making Pattern (DMP) and bridge the missing link in conversations
How to develop a unique Influence Blueprint for every stakeholder you would like to influence (especially when you are in a position of no authority)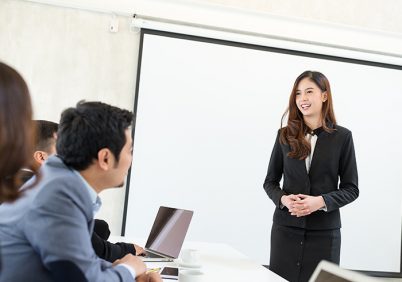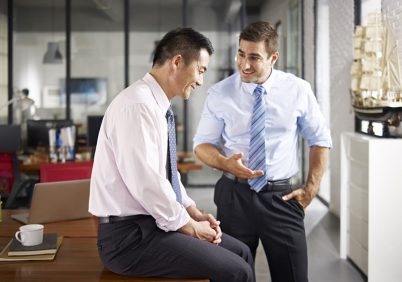 Part 3: Hands-On Strategies that Move People from Resistance to Commitment
Most communication workshops teach you the structure of how to articulate your point, but the same structure is not applicable in every situation. This workshop wants you to experience first-hand how people receive you when you apply your influence strategies. You get instant feedback on why your strategies work, how to fine-tune your flow, so that you're not a technician that throws techniques at people; our goal is for you to become masterful so as to flow with the techniques and be natural at influencing.
By the end of the workshop, you have the skill in your muscle memory. This is the flavor of all Mind Transformations workshops.
Here are the topics covered in Part 3:
How to predict people's motivation and simplify your communication with the RSA model
Developing your finesse to influence across matrices in today's office dynamics
How to apply Neuro-Linguistic Programming strategies that quickly narrow the gap of communication even with people you meet for the first time
How to apply pain-and-gain questions elegantly to increase people's commitment level
Influential conversations: fine-tuning your flow between different influencing models and communicating like a pro
Expanding your resources and bandwidth to get through to people—rather than relying on logical arguments or being frustrated that you are right but not heard
Can you be authentic and influential at the same time?
Influence does not work if you're not authentic. You can know and apply the science, but if your intentions are not in alignment with what you say, people will soon find out.
This workshop helps you with the science, skills and confidence. It helps you raise your ability to communicate, so that people can receive your value. You can go very far if you master the skill of influence, especially today, when we cannot not collaborate with very different types of people.
Meet Your Trainer: A Forerunner in Influence and Behavioural Transformations.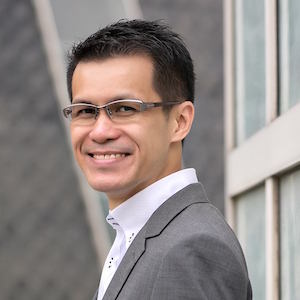 Joseph is the author of two important books—The Power Science of Influence and The Predictable Game. He is also a very competent Master Practitioner of Neuro-Linguistic Programming and Brain-Compatible Teaching. Human performance is something he understands intimately, having experienced the highest pressure as a member of the Singapore Armed Forces Commando Formation and having served in real military peace-keeping operations with the United Nations Mission of Support in East Timor (UNMISET).
Corporate clients have returned to him for his intuitive ability to consistently deliver thought-provoking programmes. This workshop, Influence Without Authority, used to be available only to corporate companies. This year, we are bringing this signature programme to you, so that you too get to improve your communication and influence at work and in your life.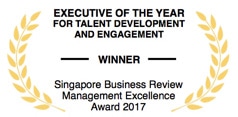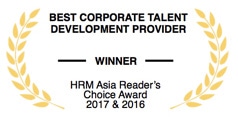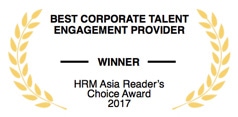 One Intake Only.
All Three Parts within One Workshop.
For Executives, Managers, HR, Leaders, Coaches, and anyone who wishes to improve their influence-ability and get more "Yes" at work.
Mind Transformations' NLP Practitioners get first preference.
Date:
TBA for 2020
9am – 630pm
Confirmation Offer:
S$2300 S$1990
(Early Sign-Up Offer)
For large group sign-ups or in-house training, please enquire
Venue:
Singapore Polytechnic Graduate's Guild
Carnation Room (Level 3)
1010 Dover Rd, Singapore 139658
Date:
TBA for 2020
9am – 630pm
Venue:
Singapore Polytechnic Graduate's Guild
Carnation Room (Level 3)
1010 Dover Rd, Singapore 139658
Confirmation Offer:
S$2300 S$1990
(Early Sign-Up Offer)
For large group sign-ups or in-house training, please enquire
What is unique about this workshop?
You may think that the science and skills to influence people are easy to acquire, and you're right if you do. Now think about the high-stakes situations, important meetings, missed opportunities you've had: you probably had the skills, but not enough confidence to "fire" them, isn't it?
This workshop gives you the science, the skills and the confidence to influence for results. You'll learn how to calibrate your mental state, and how to harness your currencies and resources to influence. Think about a situation in which you have no authority and the stakes are high: you'll be able to show up with your Psychological Best and know how to move the game. This is Influence Without Authority.
Testimonials about Joseph's Training: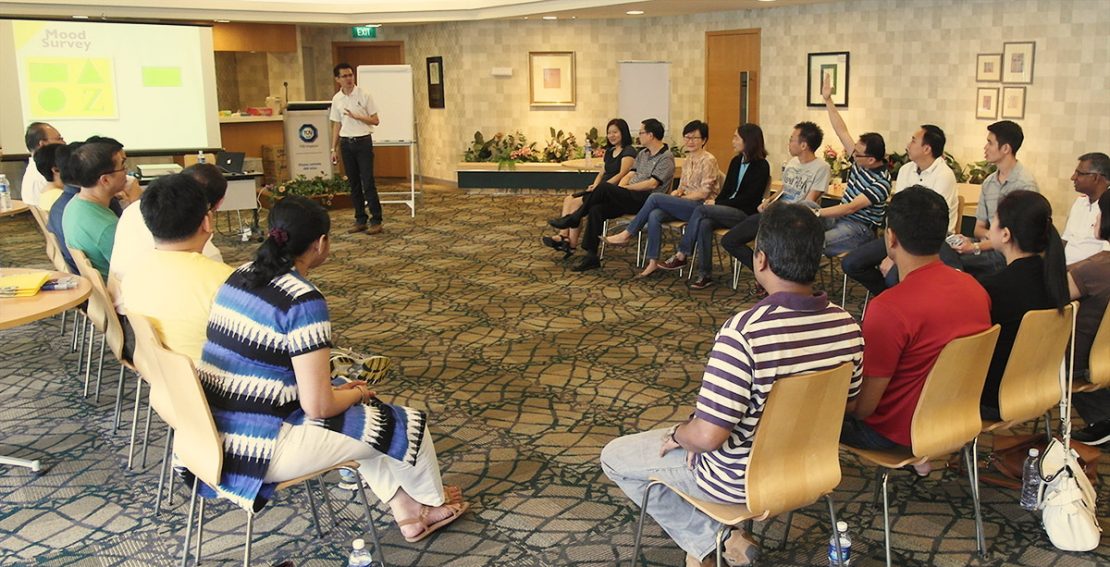 "My greatest takeaway from the workshop is the RSA model. It helps me identify pains which is the triggering point for people to re-look, evaluate, and look for alternatives. I liked how Joseph introduced games to help us learn the new techniques."
– T. NERMALA, CUSTOMER SERVICE
"Joseph listened attentively and provided excellent support which were tailored to the needs of our organisation. He also facilitated the trainings that allowed interaction among the participants, while imparting skills and knowledge through experiential learning activities. It has been a great experience working with Joseph Wong!"
MIEW CHENG LEONG, CHIEF HR OFFICER
Silicon Laboratories Intl Pte Ltd
"Purposeful and confident are the best attributes I experienced working with Joseph. He is able to translate these attributes into carefully thought-through and planned actions and activities. These helps with the self-awareness and clarity in his aim."
VINSON ONG, GENERAL MANAGER
STELCOMMs Pte Ltd
"Joseph is a go-getter who knows what he wants and delivers on his promises. He is more than well qualified as a trainer and coach. Joseph also has a genuine passion to help disadvantaged people."
FRIEDERIKE LOH, MILITARY PSYCHOLOGIST
Ministry of Defense (MINDEF)
"Joseph is meticulous and capable in ways of organising corporate training events big or small, left me with a very lasting impression since we first got acquainted some 5 years back. When you get to work alongside someone of such high calibre, it is truly enjoyable and inspiring. I do regret not knowing him any earlier and would love the opportunity of sending our staff to be trained by him, benefit from his results oriented and effective ways!"
KEN CHIA, SPECIAL ADVISOR TO CHAIRMAN
Team Digital International Group
We ALWAYS respond within 36 hours.